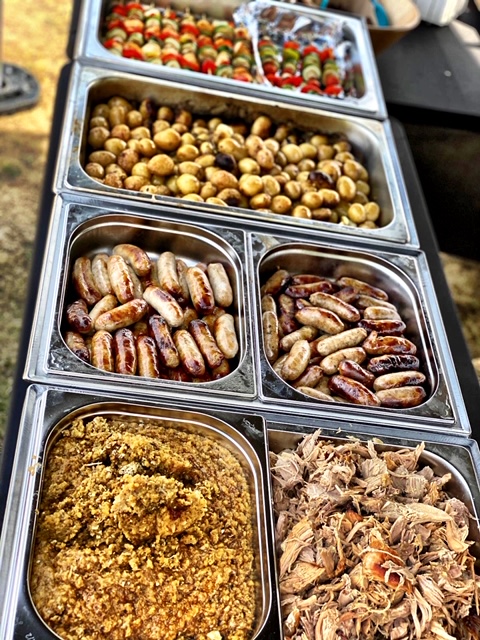 Let's meet the mighty Mark, Hog Roast Beoley's catering manager. Why is he so mighty? He has over ten years catering experience as a chef, originally trained as an army chef then leading to positions in 5* hotels in London and finally working for the National leisure Catering company doing national events up and down the country. He has had experience working at major events at leading venues including Wembley Arena, the Oval and Wimbledon to name a few! It's safe to say that if you book Hog Roast Beoley you are in magnificent hands of an experienced and passionate chef! After having a few years in work outside the catering industry, Mark returned to his roots of cooking by joining the fantastic company, Hog Roast Beoley which he has made incredibly successful with his great favours and friendly service.
So you could get to know who your chef is on your event, we asked Mark some questions!
What are you looking forward most this season?
Being able to get back out there properly after covid and providing customers with great food from small cosy garden parties to larger weddings. Can't wait. 
Is there a venue on your area that you're excited about catering at?
I have some lovely venues on my area but for me, I enjoy being in the customers gardens as it seems more of an intimate affair where the hosts and guests seem more laid back with a great atmosphere. 
If you could meet anyone famous on a job, who would it be?
I would LOVE to meet Michael McIntyre as he is absolutely hilarious! He could even sneak me some free tickets for his next road show after tasting the delicious hog haha!
What has been your most memorable event this year?
So far, probably catering at a surprise 50th birthday party for my customer's brother. The sun was beaming, it was lovely seeing reunions of friends and family and they made us feel welcome. 
Which menu would you recommend?
Definitely the Alfresco menu! The antipasti platters are heavenly, followed by the main of mouth-watering pulled-pork with all the trimmings and freshly prepared salads of your choice before finishing with the most divine desserts – perfection!