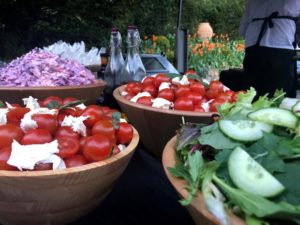 Welcome to Spitting Pig Midlands, I'm Mark, the owner of Spitting Pig Midlands. With over 12 years of experience in every aspect of catering from fine dining to large banqueting events feeding 1500+ guests, we are the perfect choice to ensure your guests enjoy an unforgettable dining experience.
For the last decade we have been serving the areas all around the Midlands and beyond with the finest quality hog roast catering. Over the years our business has gone from strength to strength, and I am very proud at how far my hog roast catering company has come. We have driven the company forwards by providing a consistently high standard of food at every event we attend and this has led to many happy customers, recommendations and repeat bookings. It really does make me very happy when I get emails from my customers letting me know how pleased there are with the service we provide.
Originally I was looking for something to expand my outside catering business and looked into the idea of hog roasting, after I purchased my first machine my business changed. I started with small scale private parties whilst I researched to learn the trade inside out. It wasn't long before I was taking on large corporate events and hog roast Evesham wedding catering. From that day forwards we have never looked back and built up a great reputation for providing first class hog roasts throughout Birmingham from Halesowen, Solihull, Redditch and all the outlying areas.
Traditional Catering
I started off small, in the early days it was just myself, providing hog roasts and other catering at small parties and functions, but overtime as my skills grew so did the reputation of the business and I soon found Spitting Pig Midlands in great demand. Today the catering company is doing better than ever with a huge base of loyal repeat customers and new clients enquiring all the time.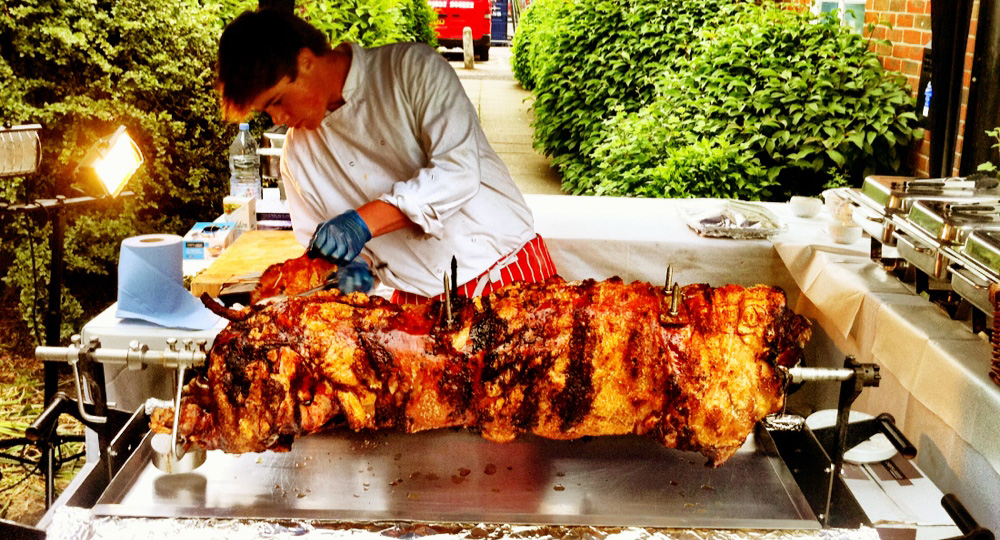 Best of all I truly enjoy my job and look forward to each event, its great to meet all of our customers and watch them enjoy our outstanding Hog Roast Nuneaton food. Our passion for hog roasting really shows through the quality of what we produce and as long as we have happy customers (which we always do) it's another successful day for us!
I trained as a chef in the Army after leaving school, and then went on to work for National Leisure Catering for a further 8 years. I catered for events across Wembley Stadium, Conference Centre and Wembley Arena and for some major sporting events at the Oval and Wimbledon. I carry with me the experience of catering for small events right up to large stadium events. No matter what the size of the event my standards remain the same to ensure each and every guest has the same experience and goes away praising the Spitting Pig Midlands team!
A hog roast is the centrepiece to your party that you need! Something that can impress your guests both with a visual aspect and the delicious unique flavours created by us.
Hog Roasting Legends
The Nuneaton Hog Roast catering company has grown from strength to strength in the last few years. We began catering for small scale hog roasts whilst we found out feet, though it wasn't long until we expanded into the larger scale hog roast catering world as more and more people placed orders with us. Initially, Spitting Pig Midlands began life with just myself catering low key functions. Eventually, our success grew along with our desire to serve the finest hog roasts around, and we started to receive more and more bookings as people began to recognise our talent for catering.