A cocktail party is a perfect way to spend an evening, surrounded by either friends or colleagues. It can be a perfect way to unwind after a busy work period, or a lovely celebration had with friends and family. We offer cocktail parties to both corporate and private parties, depending on your needs!
For your catering, it is unlikely you will want a sit-down meal, as a cocktail party is often a casual and relaxed event. Instead, our fresh rolls, canapés, or buffet menu may be right for you.
Fresh bread rolls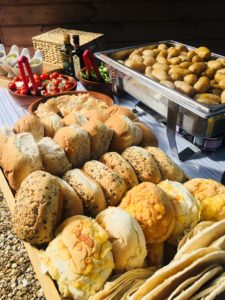 The first option we have is the most casual style we offer. Hog Roast Stratford-Upon-Avon will arrive on-site and cook your pig, which will then be carved and served in bread rolls and served buffet style to your guests. You can choose 3 meat options, a variety of sauces, and several side dishes. The side dishes we currently offer range from mac and cheese, to side salads, and everything in between!
Canapés
We offer canapés in conjunction with our other catering packages, or you could opt solely for a selection of smaller plates. We offer a wide variety of canapés, including mini pizzas, mini quiche, tiger prawns, a variety of wraps, an Indian selection, sausages, and mini burgers. Your canapés can be served with a selection of drinks and dessert can follow if desired.
Buffet style
For our basic buffet package, you can choose one main from a hog roast, slow-roasted lamb, beef burgers or a whole turkey, among other options. You also have the opportunity to upgrade to more mains, depending on the size of your party. You can then choose 3 salad/seasonal vegetable options, as well as a few potato dishes to accompany your meat.
Does a cocktail party sound right for you? There are so many reasons why you may choose a cocktail party and it can be a perfect event to host in 2022. To book your date today, head over to our website and fill in the enquiry form. Someone will be in touch ASAP to confirm your booking.