Hog Roast Minworth had the pleasure of attending a rather unusual birthday bash on Saturday afternoon! In the weeks before the big event, Mum of fraternal twins Louise had reached out to us to discuss her plans for  Matthew and Lucy's 10th birthday party. What's unusual about that, I hear you wonder? Well, stay tuned because you're about to find out…
Eager to give both children the celebration of their dreams, Louise had allowed each of them to select a theme for the monumental event, and their ideas were then combined to create the ultimate joint celebration.
Superheroes and Princesses was the result of Matthew and Lucy's brainstorming session, and to cater to their unique theme, Louise went all out on personalised party decor and exciting entertainment, including a bouncy castle, a clown and a professional face painter for the occasion. As well as that, she had commissioned a custom, split theme cake, which paid homage to each of the children's preferences.
To save herself the trouble of cooking for 30 kids, Louise had hired Hog Roast Minworth to serve our Southern Slow Roast Menu, which delivers three scrumptious Deep South-inspired meat choices, a veggie/vegan dish and three tantalising side options.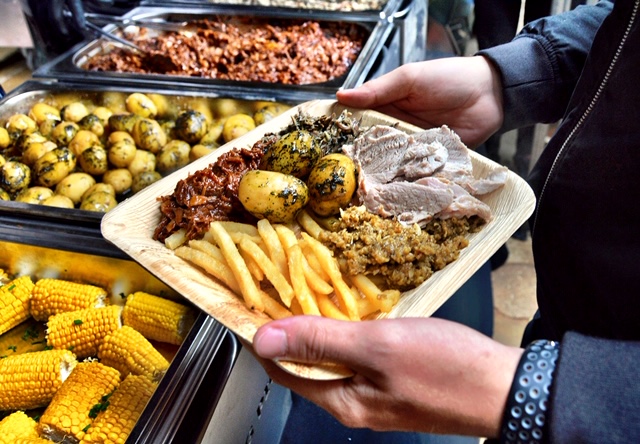 Preparing this feast for Matthew and Lucy's party took Lee, our catering manager, and the rest of the Hog Roast Minworth catering crew all morning. But by lunchtime, their hard work had paid off! When the children arrived, dressed in their fancy dress costumes, they were greeted by a buffet table that overflowed with colourful salads, indulgent macaroni and cheese and a mixture of sweet potato and regular fries, which complemented the BBQ pork butt, Cajun-spiced chickens, sticky pork ribs and grilled vegetable and halloumi skewers perfectly.
All afternoon, the atmosphere was vibrant, and Matthew and Lucy's happiness was infectious. And with so much to keep the kids occupied and plenty of food on the go to keep their stomachs from growling, the day couldn't have gone any better! Louise was particularly impressed with how Hog Roast Minworth engaged with the children, which made the party even more thrilling!