Hog Roast Hardwicke recently visited the RBL (Royal British Legion) Social Club on Green Lane, as it was the location of Nick's 50th birthday bash! Thanks to his wife, Jasmine, who had planned the entire celebration by herself, our catering crew had been invited to witness the festivities and, of course, cook up an incredible hog roast dinner for the 100 guests who had been welcomed along.
When Jasmine first approached us back in March, she wasn't quite sure of which menu she wanted us to serve, but knowing that she wanted to keep the party as casual as possible, she asked for our recommendations. Our catering manager, Lee, knocked it out of the park with his suggestion of serving our Classic Hog Roast Menu, which had everything the client needed to make the party feel complete – including a veggie/vegan option for the non-meat-eating guests.
Having Hog Roast Hardwicke at the helm caused any stress Jasmine had been feeling to melt away, and instead, she was filled with excitement for the day ahead. And if you know us, you'll know that our team certainly didn't disappoint!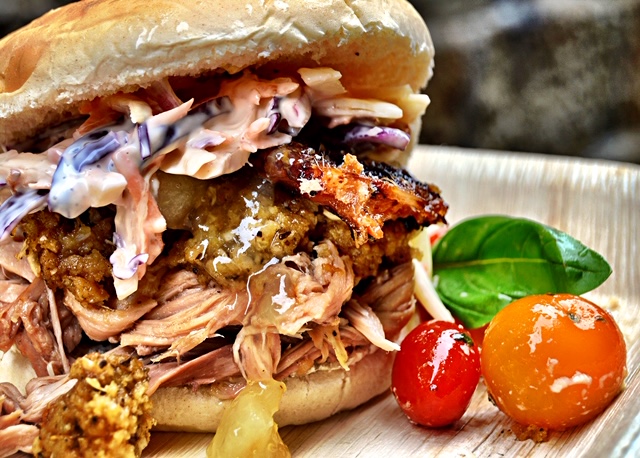 Taking place on the first Saturday of the month at 8 pm, Hog Roast Hardwicke arrived at the social club well in advance of the birthday boy and his guests. And using their window of opportunity wisely, they cooked up a stunning slow-roasted pig, which was completed with crispy crackling, sage and onion stuffing and homemade applesauce. For veggies and vegans, there was the additional option of BBQ pulled jackfruit rolls with vegan coleslaw.
When the party arrived, they were awestruck at the sight of the beautifully presented spread, and after birthday boy Nick received the first plateful – a gluten-free roll overflowing with shredded pork and all the trimmings – the rest of the guests quickly formed a queue behind him!
Hog Roast Hardwicke is so pleased with how well this event went, and our team are so grateful that Jasmine trusted us to pull off Nick's all-important birthday celebration, which we're positive will be the talk of the town for many years to come!