With a name like Hog Roast Atherstone it should seem obvious that we are expertly placed to provide the best of the best for your catered autumn events. We deliver dining to events year-round, but something about autumn just perfectly fits our specialty services and our unique menus.
Perhaps it is because our namesake dish is already the perfect autumn dish. Our speciality hog roast is ready made for the autumn season; its perfect crisp and golden-brown hue looking much like the autumnal leaves, and its warm fiery spit roasting style assured to warm up even the darkest of autumn nights. Guests can huddle round in their seasonal cardigans, their warm jumpers, and enjoy the spectacle of our authentically made spit roasts as we make our dishes fresh on site.
Or perhaps it is in any one of our other brilliantly made menus. Hog Roast Atherstone brings the British barbecue with us from the summer season and keep the delicious, comforting, grilled and meaty tastes of our gourmet barbecue range going right through autumn for all your events. Even if the sun has gone, our barbecue can keep on going even for indoor events and bring plenty of comfort and warmth to this seasons events. Why, after all, should a good thing be limited to just one season?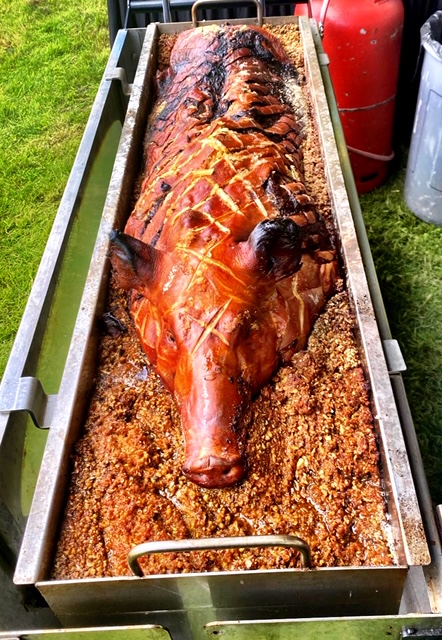 Or perhaps it is because in the spookier month of October our unique hog roast is a near perfect prop for Halloween events. What better to have at your 'spookerific' Halloween party than a whole roasted pig sat at the centre of the venue for all guests to see. It fits as a prop, but its tasty and delicious too to eat!
Or perhaps it is because on bonfire night our hog roast can seamlessly fit into the occasion too. There's plenty of fires and spectacle going about anyway, so what is one more that you can eat from too? Our hog roast is made in the authentic spit style making it an excellent addition to a bonfire night, since it already has plenty of smoky and fiery brilliance going for it.
Or perhaps it is because Hog Roast Atherstone is one of the best caterers for events year round, and this autumn is most certainly no different.