If you thought Valentine's Day was just for couples to express their affection for one another through cheesy gifts and gooey dates, then think again! The 13th of February, otherwise known as 'Galentine's Day' is the unofficial new(ish) holiday that aims to celebrate platonic love by encouraging friends to do all the things they love about Love Day but with each other instead. Sound like fun? You bet it does! And this year, Hog Roast Minworth got the chance to observe Galentine's Day for the first time – ever!
Taking full advantage of our time-sensitive £50 off Valentine's Day offer that we had running in the lead-up to the annual holiday, Rachel had approached Hog Roast Minworth to place a booking for her and her gal pals. They had all chipped in for a two-night stay at a luxurious Airbnb for the occasion, and with everyone in agreement that a hog roast would be the perfect way to pig-out (pardon the pun), they had decided to have us cater for their weekend getaway.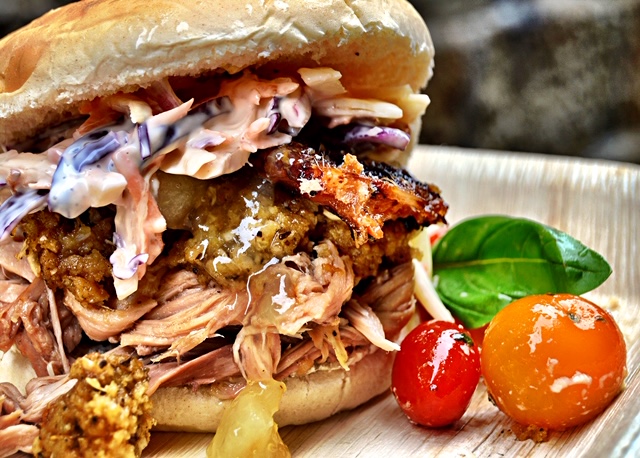 With only 26 people to cater to, the girls didn't need one of our full-size pigs on this occasion, so our catering manager, Lee, had suggested our suckling pig, which is perhaps even more flavoursome than our standard hogs. Rachel and the girls agreed that this would be the perfect solution, and with extras on the menu too, including side salads, mixed fries and gourmet coleslaw, there was no shortage of grub to go around. We even offered to serve our vegan-friendly BBQ pulled jackfruit rolls with coleslaw, which saved Rachel the hassle of finding a way to cater to the 2 non-meat-eating guests. And because Valentine's -sorry, Galentine's- Day just isn't the same without a mountain of chocolate, we included our rich chocolate torte and profiteroles on the menu to follow the main course.
Rachel had gone all out to make the event feel extra special by decorating the rented pad with loads of Galentine's themed decor, which really helped to set the tone for the event. The results were fabulous, and everyone, including the Hog Roast Minworth team, had a great time!