It's a real pleasure for all of us here at Hog Roast Norton when clients entrust us with their events and celebrations. So, when Jamie-Lee asked us to cover the catering for her business open day last Monday, we were honoured, to say the very least.
Being an extremely organised individual, Jamie-Lee had reached out to us well in advance of the event, and on hand to aid her through the entire process from start to finish was our catering manager, Mark, who made sure to listen to everything the client had to say before recommending our classic hog roast menu for the occasion.
Simple, affordable and mouth-wateringly tasty, you can be assured that this authentic menu is one of our most popular for a reason! And for Jamie-Lee's purposes, it was perfect.
Not knowing exactly how many people would be attending the opening celebrations of her business, or how long they would stick around for, this feast was ideal, as it is suited to fast-paced environments where guests are always on the move. On top of this, the meat of our average-sized 50kg pigs can be made to accommodate as many as 200 people if served in the right way, which allowed Jamie-Lee to be more flexible with her event without having to spend any extra money.
Happy to go ahead with Hog Roast Norton's recommendation, Jamie-Lee left the rest of the preparations in Mark's capable hands, while she focused on advertising the business launch and preparing the shop for the big day.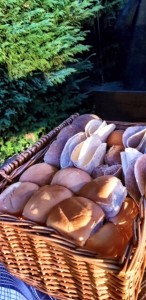 Fortunately, the weather was on its best behaviour when Jamie-Lee's opening day finally arrived, and after setting up our equipment beneath a blue, cloudless sky, Mark and the team worked quickly and efficiently to prepare the lunchtime menu.
Even as the time ticked on, Hog Roast Norton's momentum didn't slow down, and soon, wicker baskets were overflowing with gluten-free and wholemeal rolls, chafing dishes were filled to the brim with homemade savoury stuffing and fork-tender pulled pork, and on the serving table, stood an arrangement of flavoursome sauces.
Jamie-Lee was more than impressed with the feast our team had laid before her, and soon, punters from all over Norton arrived to celebrate the opening – and, of course, enjoy an unforgettable hog roast in the process!