The first day of July turned out to be a real scorcher, with temperatures creeping into the mid-twenties, which was a good thing too, as Hog Roast Stonehouse had been asked to serve one of our delicious set menus at an outdoor event in the local area.
With it being the last day of the school term before the summer holidays commenced, Wycliffe College housemaster, James, had arranged for a series of fun activities to follow their annual Head of House Battle tradition, which included a bouncy castle course, a cotton candy machine and more. And knowing that all that running around would make for hungry work, he had also organised for us to treat the 65 pupils and staff members taking part in the event to our ever-popular, Southern Slow Roast Menu.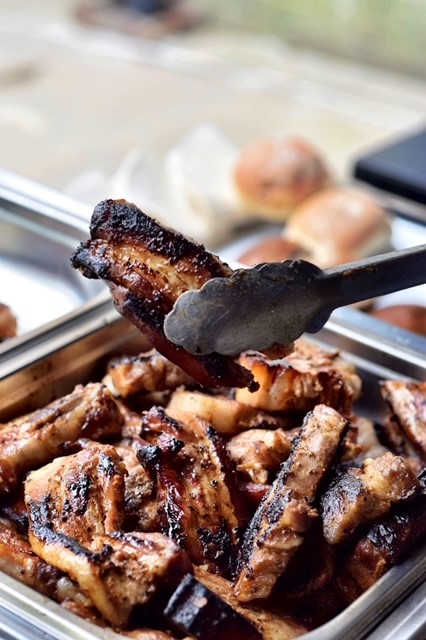 Working to meet the 4:30 pm deadline that James had set, our catering manager, Mark, along with a few additional members of the Hog Roast Stonehouse team, spent the afternoon and much of the late morning preparing the scrumptious spread of beautifully seasoned barbeque meats and aromatic sides. They began the process by marinating the free-range, locally sourced meats in our secret recipe rubs before cooking them over a low flame in one of our reliable grills until they were tender and succulent.
Hog Roast Stonehouse's hours of hard work resulted in a sensational trio of melt-in-the-mouth meats, which consisted of our Texan 24 hour beef brisket, Cajun-spiced whole roast chicken, and fall off the bone Louisiana sticky pork ribs. These flavour-packed mains were then served up with lip-smacking side options of seasonal veg, rich and creamy mac and cheese, seasonal green leaf salad and a mixture of sweet potato and regular fries.
Just as James had hoped, the food was the cherry on the cake of a wonderful day, and the kids and adults couldn't seem to get enough of the flavour-packed dishes that Mark and the rest of Hog Roast Stonehouse had created. The team certainly did us proud at this event, and we hope that we'll hear from James the next time he's got an event to plan!