Regular staff meetings are the key to a successful business. They allow you to check on productivity and progress, as well as offering a chance to check in periodically with your employees and colleagues. Providing catering for your meeting can be a great way to boost motivation and reward your staff for their hard work! Here is one of Hog Roast Chuckery's tasty buffet menus that works great in corporate situations…
A midlands based secondary school recently hosted a staff meeting to discuss how the first school term is going and to assess the return of face to face teaching. The meeting took place after school, with Hog Roast Chuckery catering provided to incentivise staff. Our catering manager Mark was asked to provide a causal catering package for approximately 50 guests, providing dishes that were suitable for both meat-free and gluten-free guests. It was decided that our Classic Hog Roast menu would be the perfect choice since it is a versatile option that can be enjoyed by all.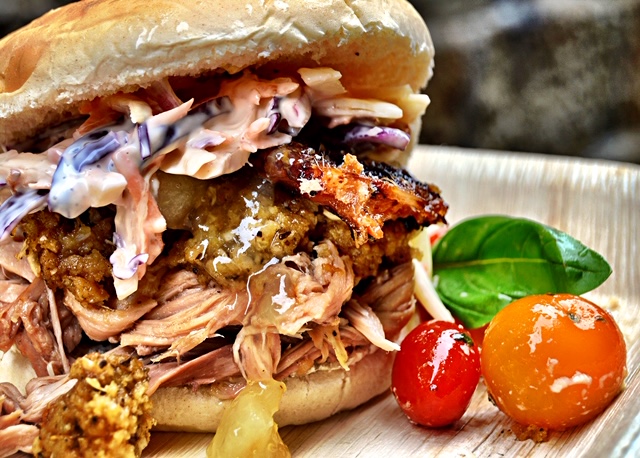 On the day of the event, our catering team arrived in advance, to prepare the dishes for the 4:00pm mealtime. We began by slow-roasting the hog, ensuring that it was packed full of natural juices and flavours. For meat-free guests, we provided BBQ pulled jackfruit, which is a delicious meat alternative! The mains were served with fresh bread rolls and wraps, including a gluten-free option, as well as a selection of sides. Our team prepared sage and onion stuffing, homemade applesauce, and fresh chips, creating a delicious meal with something for everyone to enjoy! This menu works well for events of any size, since it is simplistic yet incredibly versatile and can be enjoyed by all.
Corporate events come in many shapes and sizes and Hog Roast Chuckery have a menu that is just right for each of them! With a variety of catering styles and formalities to choose from, there is bound to be something that is just right for you. Simply let us know your party size, date, and location and we can begin to create your perfect package.