It's hard to believe that we're now only a handful of days away from Guy Fawkes Night, and as the occasion inches ever closer, our team here at Hog Roast Compton have been hard at work, assisting our clients as they prepare for the festivities by offering them a helping hand with their catering needs.
So, whether you're looking for something plain and simple or elaborate and sophisticated, be assured that our chill-chasing menu plans are perfect for feasting on during whatever outdoor events you have planned this autumn. And taking us up on our irresistible offer of fantastic food at an unbeatable cost, Annie called and asked for our help with her annual Bonfire Night party.
Speaking to our catering manager, Mark, over the phone, she explained how every year, with the exception of last year, she has thrown a bonfire celebration at her home in the countryside. But with more people than ever before expected to attend the event this time around, taking the total number of guests up to 150 people, Annie resolved that she wouldn't be able to handle everything alone – not if she was going to enjoy her night, too.
Fortunately for her, the Hog Roast Compton team were all too happy to help out, and, as always, our detail-oriented catering manager Mark was full of great ideas on how to make sure the upcoming occasion goes off without a hitch.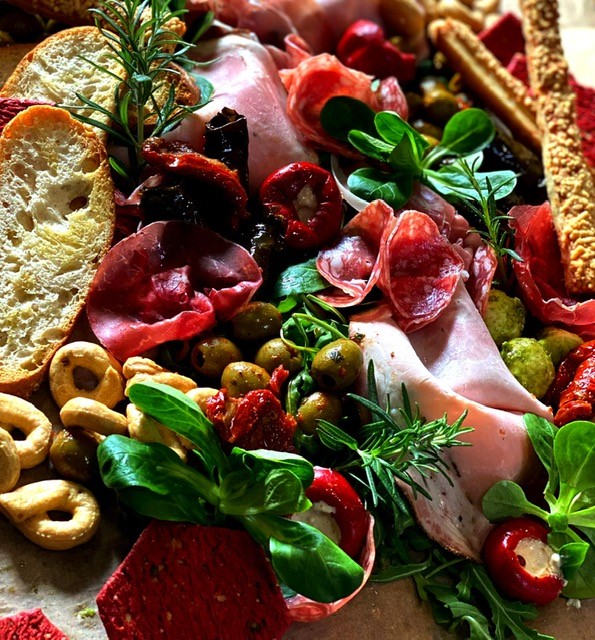 Annie was so pleased with all the suggestions our team presented her with. In the end, she opted for our Alfresco Menu, which offers a gorgeous charcuterie board selection of Italian deli meats and cheeses followed by a traditional hog roast with crackling, sage and onion stuffing, applesauce and freshly-baked rolls, along with buttered new potatoes and flavourful salads. For veggies and vegans, we'll prepare hickory-steeped jackfruit rolls with vegan 'slaw, and for the big finale, rich and indulgent chocolate torte smothered in fresh cream. At the client's request, we'll also have a hot drinks buffet service of tea, coffee and hot chocolate to help combat what is sure to be a cold night.
Having read through our online testimonials and explored our gallery of gorgeous food photos, Annie and her guests can hardly wait to see what Hog Roast Compton delivers on the day, and we're just as excited to impress!