It seems to be a more regular occurrence year on year now, but with the oncoming heatwave hitting Britain all the same we here at Hog Roast Ettington reckon there are just a couple of ways that you and yours could make the week of heat an even more sizzling affair. We'll give you one clue: it begins with a B and ends in E. Yes! Of course, we are talking about having a barbecue! A classic of British summer time, there is no better way to enjoy the "shirts off" weather than with an ice cold drink and a delicious roll and sausage.
We may be called Hog Roast Ettington, but that doesn't mean we are not also massive fans of barbecues too. The classic British barbecue is just a quick hop over from the hog roast anyway, and with our chef select specials created on our state-of-the-art roasting machines (transformed to be the perfect barbecue tool) you can enjoy the best kind of barbecue yet. Our gourmet range brings all your favourites – sausages, burgers, veg kebab and chicken skewers – and delivers them in sublime gourmet style. We take premium end locally reared meats and hand shape them with our own seasonings and well sourced ingredients to create excellent home style burgers and sausages for your barbecuing pleasure.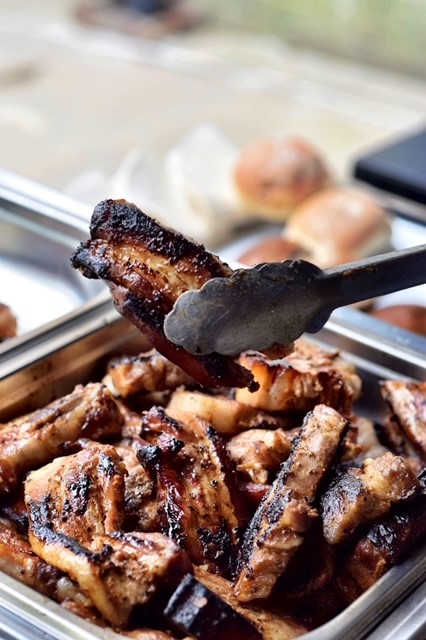 By calling Hog Roast Ettington up to today and ordering from our gourmet barbecue range you'll be ensuring your heatwave events burns nice and hot with the best foods and service around. Here is how it will work: we know that when it comes to a heatwave you'll be thinking about more about keeping refreshed and perhaps working on that tan without having to break a sweat doing any work behind the grill, so that is why our Hog Roast Ettington team will arrive early to your event and immediately get to work preparing every food item you enjoy that day fresh. We prep fresh and we'll cook in front of you too for the ultimate barbecue experience. The only finger you'll have to lift is to ask for another delicious burger to be sent your way!
So, don't sweat more this week – instead make your heatwave event much easier with Hog Roast Ettington!