When you've been married for 40 years it can be difficult to keep on surprising each other, but somehow our recent Hog Roast Ibstock customer, Janine, managed to do just so during her Ruby anniversary to husband Tony by calling in the catered services of Hog Roast Ibstock and a few of the married couple's friends and family members for an anniversary surprise for Tony!
Janine came to Hog Roast Ibstock a few months ago and told us all about her plan for her and Tony's 40th anniversary. Married in 1983, the two have long been fans of great roasts, and though they haven't quite been coming to Hog Roast Ibstock since the 80s (because we unfortunately were not around then), they have been coming to us since 2013 after the two first had the pleasure of enjoying our foods at an event ran by Tony's work. Now ten years on and many Hog Roast Ibstock events later Janine threw us her biggest request yet by helping her to execute the perfect surprise for their anniversary.
The idea was to have Tony believing he was heading out to a restaurant for a nice meal, just the two of them for a special romantic dinner. He had already been promised a roast dinner as part of this plan, but little did he know it would be his favourite Hog Roast Ibstock dinner enjoyed amongst all of his friends and family!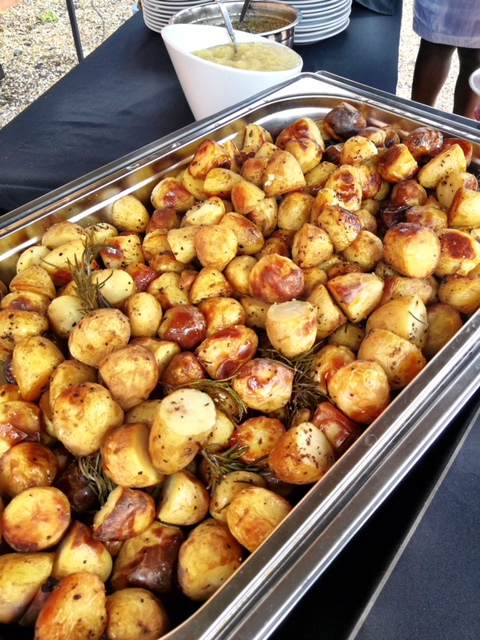 To help make the surprise go smoothly our chef team were required on site early. This way we could have everything nice and prepared so that the moment Tony and Janine walked in for the surprise our buffet would also be ready to go at that moment. We had his favourite hog roast of course, as well as a beef roast and plenty of delicious buffet sides such as veg and halloumi skewers, chicken kebabs, roasted new potatoes and fries, seasonal veg, fresh salad, and our own coleslaw – both gourmet style and crunchy Memphis style. With everything set the surprise was all that was left to nail, and nail it we all did!
Tony hadn't expected a thing and to see his face light up when he took in the scene was a delight for our team as well as all the guests. The only thing left to do was tuck in to his favourite roast courtesy of his favourite Hog Roast Ibstock team!