If you've ever fancied trying your hand with a hog roast machine, in order to make a delicious feast for either your party guests or event customers, you can hire equipment from us and learn from the best. Whether you're a professional caterer who's looking to rent a machine in order to cook just like Hog Roast Caldmore or you'd like to cook for your family or friends, hiring from us is a great idea from start to finish and here's why.
You may not have cooked in this unique way before but with one of our hog roast machines, we make it easy. Our machines are lightweight, easy to move around and cook tasty food each and every time, and they're so simple to use that we're sure you'll be surprised. It's just a matter of setting the temperature, turning it on and then keeping an eye on the meat as it sizzles to perfection. When you hire with Hog Roast Caldmore, we bring a machine along to your chosen venue and show you the ins and outs of it, so even if you're a complete novice, you'll be able to do what we do in no time at all.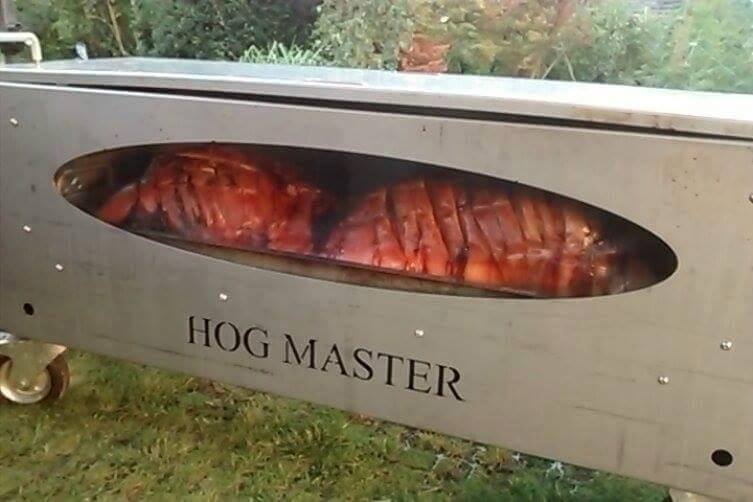 It may well be useful for you to know that you can actually cook so much more than mouth watering hog roasts with our machines, as we have attachments that you can use to spit-roast or barbecue. Not only that but the inside works like a conventional oven, so whatever you'd cook in your kitchen oven, you can cook in ours too if needed, like vegetables and potatoes to accompany your meat. We designed a range of equipment that's used by caterers and home chefs all over the world, and they all run on gas, so you can cook anywhere you like, as you don't need mains electric to do so, like a barbecue on the beach or a hog or spit roast in the middle of a field.
Hog Roast Caldmore also collects the machine once you're finished with it and we're sure that once we do, you'll no doubt be planning your next rental!