The Best Hog Roasts In Studley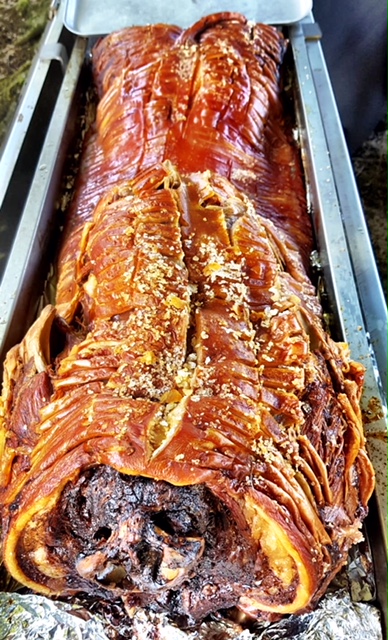 Here at hog roast Studley we're always busy. Studley is a large village and civil parish; its name derives from the Old English 'lea' meaning meadow. 'Stod' is Old English for 'horse', so Studley literally means 'horse meadow'. Studley is sometimes claimed to be the largest village in England, but this is not true. There is a castle in Studley, as well as the ruins of a 12th century medieval priory. Studley is surrounded on the north, east, and west by hills. The River Arrow flows across the south-west of the village, and there are woods to the north and east of the stream. The main village lies on the west bank of the river, along the A435, which was once a Roman road. We are hog roast caterers, and we cater for all sorts of different events: birthday parties, corporate events, weddings, Christmas parties, VIP events, anything you can think of, really. We also do hog roast hire Studley, we hire out hog roast machines for people who want to do the hog roast themselves; we get quite a lot of customers hiring from us at hog roast hire Studley.
When we do catering we provide everything, down to the condiments, serviettes, balloons and bread rolls. Today we were catering a Christmas party in a hotel. Here at hog roast Studley we do a lot of birthdays and weddings more than corporate or public events, and as per usual this was a private party.
Leaders In Our Field
We got there early with plenty of time to spare, and Moira started putting up balloons and doing all the decorating. The hotel staff had set up the tables but we moved a couple of them for a better layout. I made sure everything was perfect before we lugged in the hog roast machine out of the van. Then it was time for Moira and one of our other team members, Danny, to carry in the heavy roast. They were staggering a little under its weight; it was a big one. We put the roast in the machine and it began to turn, glistening oddly red under the lights. As the guests began to arrive, the team was meeting and greeting and showing them to their seats. I was filling glasses as guests continued to arrive and a lot of them were shooting glances towards the hog roast. All our roasts come with crackling and applesauce, by the way.
It was a very fun evening, even for us, and we were running about serving everybody! When the time came to cut the roast, I quite enjoyed it; it is definitely my favourite part, when the blade starts carving and all the juice seeps out, releasing the spicy, warm aroma of roast hog. And then we serve the hog roast, and everyone tucks in, for many, it's the first time they've tasted a hog roast, and you get to see their expressions and that they,re enjoying it. And you feel like all that hard work in the kitchens was so worth it, because it all comes to fruition at this moment.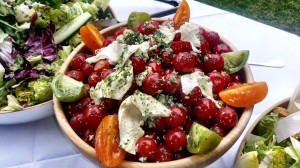 Well, that,s how it happens, and that was how it happened at this party, too. Two people told me it was the first time they had ever eaten a hog roast, and that it was really good. I never tire of hearing compliments! As the party gradually wound to a close, I kind of wanted to eat the roast myself, too. I sometimes get that feeling. I do enjoy the taste of hog roasts, which is probably why I enjoy making them for other people to taste, so they can enjoy the same gastronomic experience as I do. Does that make sense? Probably not really, but it's how I feel. As the guests began to leave, another person told me she'd never had a hog roast before. She would definitely try it again, she said.
After the guests had left, we tidied up, taking down the balloons, sweeping, binning the crumpled serviettes. We always do a good clean up job. Then we drove off back here. Tomorrow we're going to be hiring a machine to the local community centre for a special dinner, and then catering a birthday party in a pub. Next week, it'll be two more Christmas parties and then a corporate event, which we don't often get to cater for here in Studley. It is a busy life, being a hog roast caterer, but I definitely would not have it any other way.