The Best Hog Roasts in Rugby
In 1823 a young man by the name of William Webb Ellis, in a moment of inspired confusion or madness (depending on your point of view) is said to have picked up a football and run with it, thus giving birth to the game that is now named after his famous public school. Now, as far as we're concerned at hog roast Rugby this was a lad very much after our own heart. If there's one thing we're good at it's picking up the proverbial ball and running with it.
However, Rugby, steeped in traditional values, has inhabitants who enjoy thinking outside the box; blending traditional and modern, if you like. Good for us, because that's what we do. Glorious dining experiences based on a style that goes back beyond medieval times but with our own little twists thrown in ! Little wonder our teams of professional hog roast Rugby chefs and service staff are in demand at all points of the compass in and around Rugby. Versatility is the name of our game; no to days are ever the same. Next week, for example, we're doing a private party for the Reynolds family out Clifton-Upon-Dunsmore way, providing a sensational centre-piece for the UK conference of a certain global blue chip company the next, then Uncle Ray's retirement party and well, you get the picture. So, time to pick up the ball (or spit roast) and run, folks!
The Best Hog Roasts in Rugby
Of course this all feels relaxed and fun because our hog roast Rugby event planners have already been hard at work with our clients to ensure every detail has been sorted and everyone's happy. We take care of all that so you don't have to unless you fancy having a go at a hog or spit roast yourself? Sure, we can do that too; providing the equipment you'll need and offering expert guidance to maximise your enjoyment and of course to ensure the food is of the highest possible quality when it matters most when your guests are ravenous!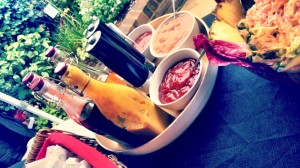 The wafting scent of succulent, sizzling hog roast Rugby pig complemented perfectly by our range of speciality sauces and freshly baked bread. All this plus a range of six menus from which to choose means you can be as adventurous as you like on the day (or night!). We're pretty confident with over twenty years experience behind us that we can satisfy even the most demanding palates! Having vegetarians there? No problem; we always make a point of making everyone feel a part of the occasion and can offer them their very own spit roast so they can join in the fun too.
Indoors or out we'll take good care of you. Of course we can't arrange the light or the weather but our portable lighting system and gazebos will ensure nothing rains on this parade. From intimate dinners to large festival crowds; we've fed them all before now but it's your event we're looking forward to next. Has Rugby finally met it's match? One way to find out .