The Best Hog Roasts In Oakham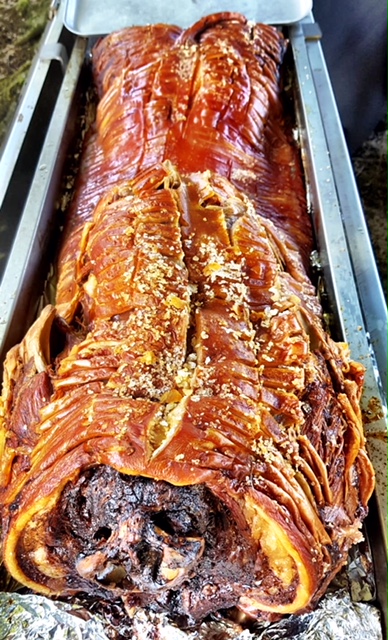 Spitting Pig has all the tools to make your event out of this world, bringing to your occasion a combination of stunning foods and a hog roast Oakham service which oozes bucket loads of professionalism. We've been around for a long time, not quite as long as local landmarks like the Oakham Castle, but long enough to be an established catering force. The foundation of what we do is hog roasting and spit roasting, perhaps one of the reasons local folk love the hog roasts we make is that we thrive in tasks that others are unable to take on.
We're at the forefront of hog roast event technique and technology, meaning that there's no event beyond our capabilities, our chefs have no hesitation in grabbing the bull by the horns and getting the job done. You'll find us frequently at the local market on a Wednesday or Saturday, hog roasting like there's no tomorrow. But all over town you'll see our vans driving around or parked up, as each day we create dazzling roasted pig banquets for new and old clients. Hog and spit roast packages for a corporate function, a party or a wedding are all mainstays of our Spitting Pig menu area. It's hard to believe how much we can do for you, but you ought to believe it because there are thousands in Oakham who can attest to the mouth watering, appetite whetting whole roasted pigs we make.
Leaders In Our Field
We don't just know the hog roast Oakham tricks of the trade, we created half of them! From canapé creation to wondrous waiting which treats your guests as royalty, we lead the way with our methods, most of which are imitated by others searching out the same success as we here at Spitting Pig have had. Where we really make our mark is hog roasting and spit roasting, having elite chefs who are pig roasting specialists sure does help, but so do our self-made hog roast machine models. Now that we have our own models of machines and we have so many multi-talented chefs, we're actually capable of cooking for far more people than what most realise. Oakham isn't the biggest of places and so rarely have we needed to, but hog roasts can be made for an event with thousands of people. We could hog roast for the entire population of the town if needed.
Most the events we hog roast for are small to medium size events, which are bundles of fun to be part of. It's difficult to not take great enjoyment from hog roasting when on a day to day basis we're meeting so many great new people, building relationships with other businesses and putting smiles on faces.
Experienced Servers
Our chefs really enjoy and believe in the virtues of hard work, the give their best all the time, they especially like when they're on an Oakham just which is a wedding or anniversary, but they're equally up for the challenge and perform above and beyond at other events like corporate functions such as a business breakfast, or party events like birthday parties and seasonal parties such as bonfire night or new years eve. Generally, it's difficult to separate the chefs from their hog roast machines, even when they're not at work half of them can be found at home entertaining their friends, neighbours, family members with their own hog roast barbecues!
The Spitting Pig chefs aren't alone in hog roasting at events and in their spare time, we have a way for our clients to do exactly the same thing – hog roast hire Oakham is how they do so. How would you like to have a go at hog roasting if even for a day? Well you can now that we have a hog roast hire Oakham section for all clients, whether you've used us before or are a first time customer. Your delicious roasted pig, complete with crispy crackling, is only a phone call and one machines hire away. Hiring a machine and buying a pig from us – the pig part is optional – will give you the two things you need to provide scrumptious roast pig servings for hundreds of people. Or lamb, or whichever meat you decide is best for your guests. You could even get really creative and buy a large chicken kebab for the spit roast machine.
That's just a brief bit about what we do. Have a closer look around the website and you're sure to find even more to whet your appetite and get your imagination going.