The Best Hog Roasts In Nuneaton
Hog roasting is that special hog roast Nuneaton something you've been looking for to give you event more excitement, and Spitting Pig is the premium hog roaster in Nuneaton, so you're in good hands if you need the best event catering on the market, because that's exactly what we bring to the table. Even though we've been hog roasting for several years, for hundreds of different people, we still love hog roasting as much as the day we started. We don't think you can ever get bored of the succulent textures and mouth watering flavours of a well put together hog roast; it's a timeless classic that hasn't aged a bit in thousands of years.
We're one of the only dedicated roasters in the country that has mixed hog roasting with professional standard event catering. The hog roasts we make are with juicy pigs and we slowly cooked the pigs on a spit or a tray, what's different about our hog roast Nuneaton catering is that it's truly professional and up there with the best caterers, full stop. Our waitresses, our chefs, even our office staff, they're above and beyond the typical standard. When you and your guests discover hog roasting what you're actually discovering is a new world of untold pleasure, enjoyment and communal hog roast Nuneaton spirit. Universally speaking there is something to our hog roasts that is sought after and appreciated by every single guests, even those who perhaps won't even eat the hog roast for one reason or another. It isn't necessarily the hog roasts that people love most, even though we're well aware that is the reason most people book us. If you have guests who, whether vegetarian or religiously bound, cannot eat our hog roasts, you can sit at ease as our vegetarian and non-meat meal options stand up there with the very best anyone else has to offer. We've been tasked with feeding many vegetarians since we began catering and the feedback has been nothing short of brilliant, every time.
Leaders In Our Field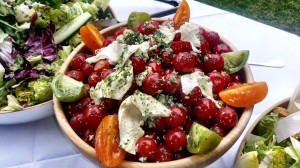 Spitting Pig chefs have been in control of catering for thousands of Spitting Pig booked events, these events have varied in size and type to a great degree, and yet despite the variation our chefs have made delectable food on time and in a professional manner. Whether a wedding for 500 people or a business lunch for 15, the hog roast chefs at Spitting Pig know their trade well and they have the best tools at their disposal in our hog roast Nuneaton machines.
We have a menu for hog roast rolls, snack spit roast sandwiches, buffets and more. We even have a tie-and-suit friendly informal menu where we cook several awesome dishes to go with our hog roast, and have the food served to your table by a Spitting Pig waitress's team. That's without mentioning the other bonus services we can provide, be it serving drinks or providing a front of house to greet your guests.