The Best Hog Roasts In Markfield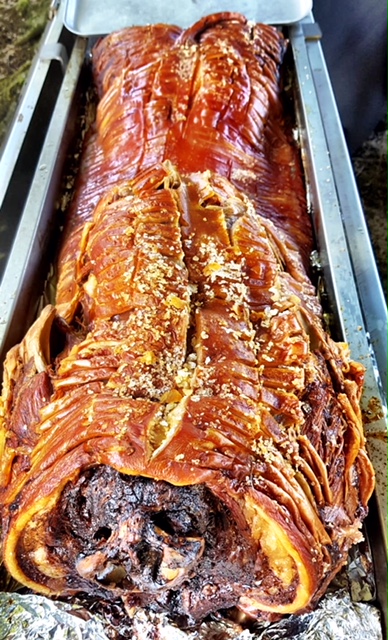 Catering in Markfield is a rewarding job, with so much enchanting scenery – natural and man-made – it's easy to love what we do, even in the most high tempo of environments we find ourselves enjoying ourselves, because we're thoroughly passionate about hog roasting and Markfield and its people. As a local hog roast Markfield caterer we understood the local people as well as anybody, our chefs and team for the most part and born and bred in the local area, we've been hog roasting in our hometown for so long, every event is a rewarding experience for us as well as our clients and your guests. What's in store for you when booking the our company is true rustic cooking, whole roasted meats, cooked as they should be and served with a stupendous service. It sounds simple, blending good food and good service, but it's not as easy as it sounds, which is why we're such a rare professional company, we do both so well with true grace and swagger.
Entertainment is essential for events, cooking should be part of that entertainment, and what's more entertaining, enticing, exciting than a whole large pig roasting on a spit. Imagery is important, most caterers are absent from sight until the serving begins, usually forced into a kitchen out of sight from guests, hog roasting couldn't be any further from that. Hog roasting is catering present throughout, from the moment your guests get to the venue their hunger will begin as one of the first things to be seen is a hog roast chef tending to a plump pig. The village has many great places for party events, the pubs of the Red Lion, Queens Head, Coach and Horses, and The Bulls Head are known well enough if you live in Markfield, to name but a view, but it can be a much more testing experience to find a fantastic caterer to match the fantastic venues and people of Markfield, that is, until you find Spitting Pig hog roast Markfield. Now that you've discovered us the pieces will fall into place and an overwhelmingly successful event is inevitable – our expertise in event planning guarantees that.
Leaders In Our Field
Blessed with natural rural beauty, there is a lot we all have to be proud of. We're surrounded by not just scenic hills and forests, but untold number of farms, regional farms used by Spitting Pig so that for your event we have the best breed of pigs, reared with the best and fairest farming methods, and, on top of that, always cooked fresh. The roasted pigs we make are served as a combination on floured rolls with a significantly tasty apple sauce and aromatic seasoning. This genius age-old mixture is certain to excite your guests, it always does, whether taken by itself or ate as the main meal of part of an even bigger and better menu, like a buffet menu. Hog roast catering is ideal for a multitude of events. All year we have different clients with different events they need a caterer for, from weddings through to Christmas events, business breakfasts to a party, whether a birthday party or a new years eve party, there's not a whole lot that we haven't catered for, which is a massive achievement in itself when you consider the size of the village, but also the proof in the pudding which tells you all you need to know about hog roasting and how it's perfectly suitable for your event, regardless of what the occasion might be.
The do-it-yourself hog roast hire Markfield model you can get from Spitting Pig is just as useful for your local hog roast. It's effective financially to save on the pennies to hire a hog roast machine, but what it has best going for it is that you'll never be left short of fun if you're in command of your own hog roast. Making your own hog roast is a constant source of enjoyment, and the fruits of your labour will taste even better since you've created it yourself. If hiring a hog roast machine doesn't win your friends over then we don't know what will. Making a roasted pig that drips with flavour beats out any of the other options.
There's a load of choice for hog roast hire Markfield and hog roast catering packages, you'll find every option available to you when you browse through the website for your Markfield event. If you need any help finding your way through the information and many choices available just call us for assistance.