The Best Hog Roasts in Leicester
To me it was always the capital of the world, though I guess my views of my home city of Leicester were always a little more lofty than most. I am of course very proud to come from Leicester and even more proud to work in the city as a hog roast Leicester caterer, but I have to admit that during my formative years here, I was hoping to one day lift the FA Cup with my football heroes rather than be cooking for strangers. Leicester City were my team and Lineker was my hero. How I wanted to follow in his footsteps and do great things like winning trophies and championships. But it wasn't to be, of course. Lineker moved on to be bigger and better things and I simply was not up to the standard to carve out a career as a professional footballer. Little did I know that I would be doing some carving in Leicester, just not through defences. My carving would be as a hog roast hire Leicester chef.
Yes, it is a bit of a difference in careers but sometimes you just to have to go with the flow. I remember that awful time when you have to reassess what it is you actually want
to do with your career and I really had no clue. I had always a had a bit of an interest in cooking but nothing major, but everything came together one night when I was out with friends. We had been invited to a big leaving party for someone who was going to Australia and they had brought in a hog roast for the catering. It was a first for me and I was a little hesitant at first, though it did smell brilliant! Anyway, when I did go and get my roll it was superb. I had no idea that hog roast was so delicious and I genuinely felt that I'd been missing out all these years! I was also pretty impressed by how organised everything was and what a great vibe there was surrounding the event. Everyone was really having a great time and all of them were loving the food. It got me thinking if becoming a hog roast hire Leicester chef could be a good move.
Well, I did my research and what do you know? I have now been a hog roast caterer for the good people of my home city for some five years now, and I have to say that this is the best job. I was always keen that I would work in my home town and that is one dream that has come true. Best of all though is that I get to share great tasting catering with people all over the Leicester area.
Feel Good Food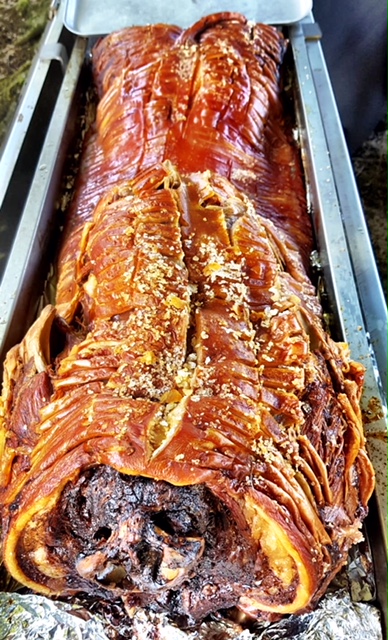 I think one of the best parts of my job as a hog roast Leicester chef is the fact that hog roast really is a feel good food. You get to serve up food to different people every week who actually love what you are doing for them. They truly appreciate the immense hard work that I put into top each and every hog roast….and it is a lot of hard work! I think many clients are very surprised at just how much work actually goes into to each hog roast. In fact I am surprised myself sometimes! A lot of clients are fully expecting you to simply turn up at 7pm and start cooking with people eating at 8pm. Well, if only it was that simple. I think they forget that we are cooking a whole pig and not pork chops! A standard sized Leicester pig takes around six hours to cook and that means it's a n early start for me at every event I attend. I will be there cooking a good five hours earlier.
Just because I start cooking the pig earlier, this does not mean that you and your guests will miss out on me cooking the pig. Of course not, after all that is one of the big things about hog roasts. People love to see the cooking taking place and I won't let you down. In fact I love the live cooking aspect of hog roast nearly as much as some of the guests. Best of all though is when I start serving up the meat, because that's when they really appreciate what I have been up to.
If you are looking for great food at your Leicester event, look out for your local hog roast chef!