The Best Hog Roasts in Leek
Leek has a long history as the market town – there has been a regular market here since 1207, and while it might not be quite on the scale it used to be going down to wander around the market is still a fine way to spend an afternoon and it is one of my personal favourite pastimes. Obviously being as I'm in the catering trade I know all the butchers around the town quite well, but still like to go visiting to make sure that stay in touch, and there's nothing finer than seeing fine local produce being sold to local people who are keen to support local food producers and other local businesses.
I'm very keen on keeping my money circulating in the local area myself so I try to avoid supermarkets, here at hog roast Leek we are 100 per cent supported by our local community and it is nice to give something back, even if it's just by doing something as simple as doing my shopping locally. Of course, but also something else that we give to the local community: the best roasted meats available from miles around! Our roast pork really is something special and we put a lot of effort into making sure that our produce his head and shoulders above the rest.
Leaders in Our Field
One of the most important secrets to our business is actually no secret at all, it's the top quality Spitting Pig branded spits that we used to do all of our cooking. These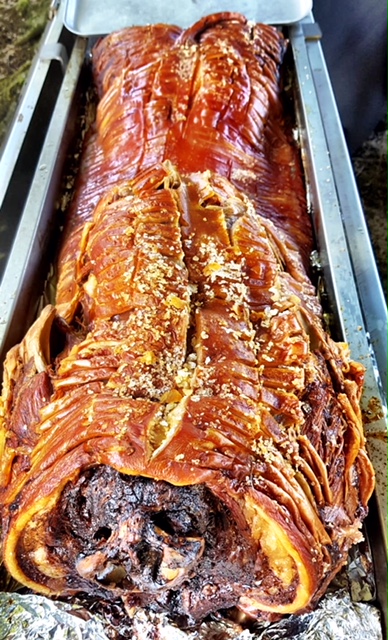 stainless steel duties really are top notch pieces of kit, in my time I've tried a lot of different spit roasters, and none of them at stand up to Spitting Pig, which is why there is only one machine that's good enough for hog roast hire Leek. There a lot of fun to use as well, and you don't have to take my word for it, if you fancy yourself as a chef for the day we will happily hire you out one of our machines to have a go on. Once you've experienced how good it feels to cook a whole animal from scratch you will want one of your own though, so make sure you've got plenty of spare space in your garage or shed, don't say I didn't warn you! And once your friends have tried your cooking, they will be pestering you to keep it up as well. So make sure you have a lot of spare time in your diary to the receiving lots of extra guests because once word gets around that you're serving up the tender hot roast pork that comes of our machines, you will suddenly find that you've got a lot of new friends. I mentioned making sure that I stayed friends with all of the local butchers earlier, that's the other big secret to succeeding in the hog roast business.
Hog roast Leek wouldn't be as famous as it is if it wasn't for the quality of the rare breed hogs that we serve up, and we only get the best hogs because our local suppliers keep all of the best back for us. It might sound obvious but butchers are the best people to go to for tips on cooking meat, some of the guys I know have been in the industry for 30 years and really know their stuff. In fact some of my favourite recipes, maybe most of them, have been handed down to me by friends I've made through the business. And if you want to try those recipes, give us a call and get us to cater your next event because a lot of them have gone into our menu over the years. We may have made our name roasting hogs but nowadays hog roast hire Leek is equally famous for our general standard of excellence in the catering industry. We are equally at home catering any formal black tie sit down dinner as we are setting up in a pub back garden or a muddy field in the middle of the festival. The great thing about roast pork, roast pork particularly but also the other roasted meats that we do – is the he goes down well with any crowd. Blue blood or blue collar, you can't say no to a hot pork roll, or you would have to be mad to do so, at least. So don't miss out, get on the phone and book us for your next big event.