The Best Hog Roasts In Kibworth
Whether you're located in or planning an event in your garden or down at your local, the answer to your catering solution is hog roast Kibworth. The hog roast Kibworth caterers who make everything from homely hog roasts for chilly winter get togethers, to massive spit meat feasts that are big and delicious enough to satisfy events with many hundreds of guests, especially perfect for weddings and corporate functions, but equally as delightful if you book for a party occasion.
The local cricket team aren't the only ones hitting the ball for 6, we've been doing just that as Kibworths most relied on hog roast caterer. All catering challenges are taken with a smile and eagerness rarely seen, we're confident in ourselves, we know from experience that there is nothing too big for us, neither is any event too small, and so you can regularly find us with our metaphorical bat, knocking balls out of the park by making hog roasts that all guests and clients praise. Or we'll give you the bat with hog roast hire Kibworth.
Kibworth is a small place, but we're anything but small in approach or stature, and your event doesn't need to be either. There are so many resources here to make an event a real big one, as big and professional as any other in the country, and you ask anybody who has booked us, Spitting Pig is the best resource you can have for making an unquestionable statement at your event. But we do both best, and it's worth keeping that in mind, it's not only large events where we flex our hog roast muscles, informal events are equally favoured by our team; a smaller party, business breakfast, or any other event, can be made all the better with our spit roast chef(s) there.
We've never hung our hat on the fact that our hog roasts are the picture and taste of excellence, ever adaptable, we've developed other spit roast options, ditto for services. Whether we're sending whole waiting teams out on a job in Harcourt, or we're providing drinks bars manned by a member of the team for a birthday party in Beauchamp, most events have elite service to wait on your guests, and the menus that don't have waiters still have a professional, well-presented chef who'll happily engage your guests and serve with style.
Leaders In Our Field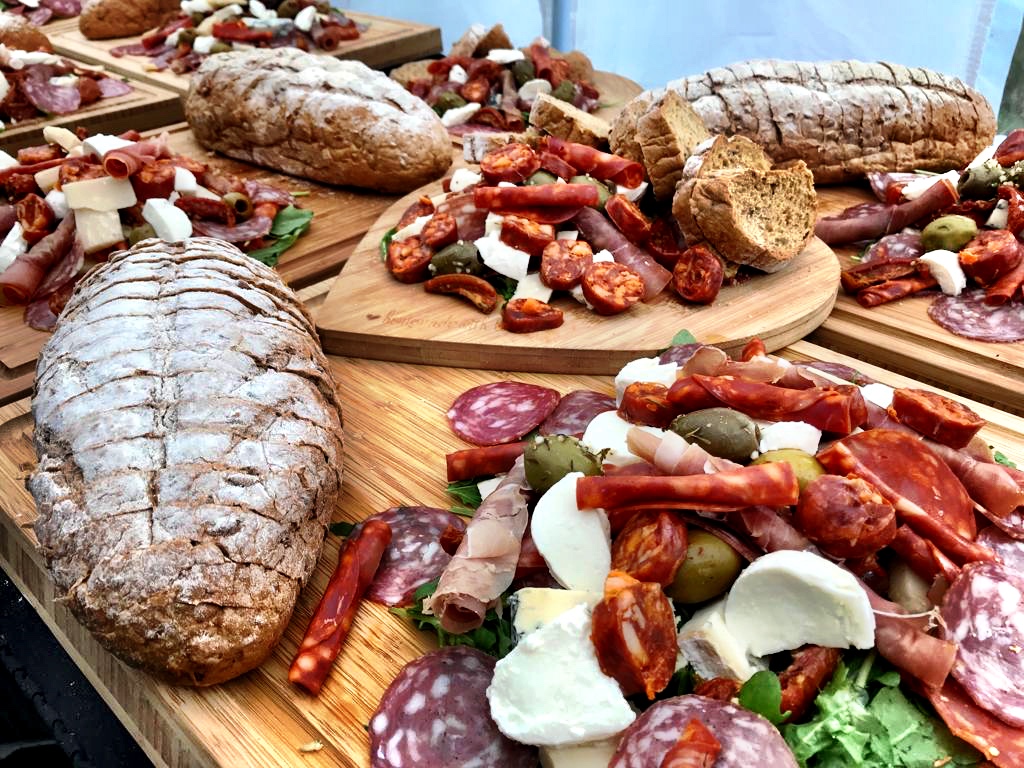 Events vary tremendously, so when you're looking for a caterer it's only right that you find one which has diverse menu selections, something to suit just about everybody – that's us. We've always been considerate of the fact that not everybody is the same, our numerous years catering in Kibworth has shown that to be true, hence we consciously encourage clients to tell us what their perfect hog roast looks like, so that we can make specific changes for you if they're desired. The reason we're the number one hog roaster is almost paradoxical, in that our biggest strength is that we don't fall into the trap of focusing solely on hog roasts. We know already we make the best hog roasts, but the bottom line of a perfect hog roast is not always the hog, a lot of the jobs we do don't begin and finish with just a hog roast, for many jobs the starters need to be as good as the pig, so do the canapes and desserts, even the little things like cooked potatoes require the freshest ingredients and utmost care. Even people who don't like pig, vegetarians for example, are won over by our appetite-stoking catering service.
That's why we're the catering solution people enjoy most, you only need to glance at our menus to see what we mean. Nobody is ever left behind, our spit roast packages have something for every client, and each one of your guests. Even if there's thousands of them, we work hard so that the meal is enjoyed by all. Satisfaction is a guarantee.
There's something else that's certain, and that's that if you want a hog roast for a party, celebration or even your business , catering is just one part of the picture, the other half is hog roast hire Kibworth. Machines don't need a Spitting Pig chef to churn out sensual roast pigs with crackling so crispy it will send your guests crazy, it's just as possible to get the same results yourself.
Our hog roast Kibworth website is user friendly and choc-full of even more juicy information. For a more in depth look at what we do you should visit the menu or machine hire page based on what you're looking for.