The Best Hog Roasts in Bromsgrove
Here's a fact that not many people know about Bromsgrove: that the gates of Buckingham Palace were crafted and manufactured in the town. For this important and special work, only the best and most famed craftsmen could be trusted and those craftsmen were based in Bromsgrove, they were known as the Bromsgrove Guild and they were known throughout the world for the high quality of their craftsmanship. To this day, if you can get close enough, you can see their name stamped on the locks of Buckingham or Palace gates.
Nowadays, Bromsgrove is famous for a different set of craftsmen working in a very different material. Yes, that's right, I'm talking about hog roast Bromsgrove and our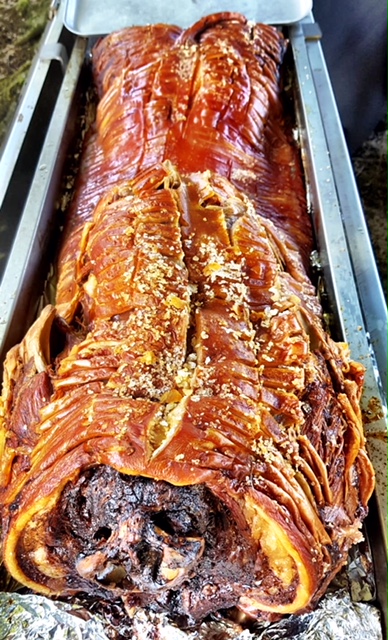 famous hot pork rolls. When it's done the right way by us, slow roasting rare-breed hogs really is an art form. And we are without a shadow of a doubt the best in the business. We might not quite have made it to Buckingham Palace yet, but I'm pretty sure the invitation will be in the post any day now. So what is it that makes hog roast hire Bromsgrove stand head and shoulders above the rest? Of course, the easy answer is just to state that we make the best hot pork rolls in the country. Our fresh-baked buns, crammed full of juicy tender slow roast pork, with homemade stuffing, fresh apple sauce, and our secret recipe gravy are rightly beloved throughout the Midlands and beyond. But if you look a little bit deeper, the reason they are so good is because of our attention to detail. We don't leave anything to chance, every single step of the process is thought out carefully to ensure the best possible end result that is, the best possible hot pork roll in your hand.
Fresh Local Ingredients
Our buns come from our local bakery and we picked them up every morning fresh, no stale or soggy supermarket rolls for our customers. Our stuffing is home made to our own special recipe which we have perfected over years in the business, but even though we think it is the best out there we are always striving to be even better so we never stop tweaking the recipe and trying new things and new flavours. For the hogs we choose we only go to the best and most reliable local butchers but we don't stop there, we also visit all the farmers who supply our meat to make sure that the pigs we cook are kept in the highest standards of welfare, it's good for the pigs, good for the environment, good for us and most importantly of all good for you.
Our Spitting Pig roasting machines are without a doubt the top of the range, and we use them to slow cook our hogs over six or 7 hours to hit that sweet spot where the meat is cooked through to perfection but retains all of its juices and all of its flavour for the perfect texture and taste that really does justice to the animal. It also means that you get the perfect crispy crackling on the outside which is like nothing else you've ever tasted. I'm serious, you haven't tried crackling until you've had hog roast Bromsgrove crackling. Our apple sauce is cooked up fresh every morning from the best organic cooking apples which if at all possible we buy locally, and again, we know all the local suppliers and work with them to make sure that we get all the best ingredients. I would love to tell you the recipe for of gravy, but it is a family secret that has been passed down to me by my grandmother and out of respect for her memory I have to keep it to us to myself. Most of the other staff don't even know it! I know you're thinking, well, gravy is gravy, but let me just say you won't be thinking that once you've tried ours.
Here's my challenge; come and try our food, you can book us for your next event or persuade one of your friends to do so if you don't have any big celebrations coming up yourself (they will thank you for the recommendation anyway). Once you seen how the pros do it, rents one of our machines yourself and see whether or not you can match the quality of hog roast hire Bromsgrove. I can guarantee you'll get great results, but I don't think ANYONE cooks roast pork better than me.