The Best Hog Roasts in Sparkhill
Sparkhill is an area within the wonderful city of Birmingham. It is a busy, diverse and thriving inner-city area once named Sparkhill due to the Sparkbank stream which runs through to the River Cole in nearby Moseley. Although now part of the hustle and bustle of city life, Sparkhill was once a rural area famed for it's agriculture industry in the 1880s, owed by the aptly named Sparke family. Although the area of Sparkhill has transformed remarkably since it's farming days, there still remains to be a seen an abundance of historic buildings which offer a small insight into it's past. Such buildings include Sparkhill oldest known landmark, The Mermaid Inn which has been in the area since the 17th century!
I think it is fair to say that Sparkhill although once very different to it's current surroundings has built on it's historic foundations to transform into a modern, up and coming area with a very promising future. Similarly, here at Spitting Pig West Midlands we took an old idea and transformed it too. The art of spit roasting is in fact an ancient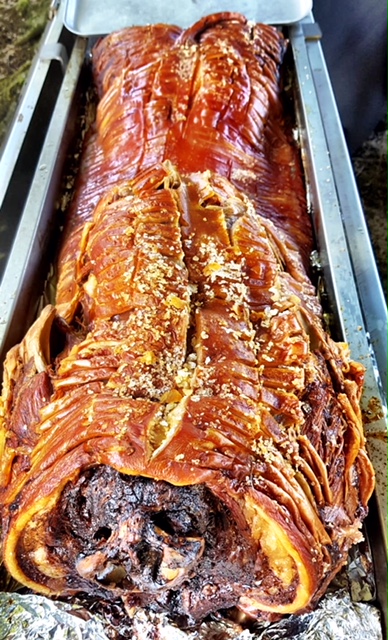 cooking method which history suggests was even popular with cavemen! Our team at Hog Roast Sparkhill have been studying and developing the culinary skill of spit roasting for over 20 years now and we have brought it into the 21st century. The method is incredibly diverse and we are able to adapt our cooking style to suit a whole host of different events, occasions and preferences. We are able to provide that delicious, succulent, 6 hour turned meat for weddings, private parties (including those big birthdays!), christenings and business and corporate events. All you need to do is inform of us your party size, let us know how you would like the food served (buffet style of more formally) and what kind of menu you are interested in. We simply do the rest for you, taking away one of the most stressful and time consuming elements of hosting any kind of event. By hiring Hog Roast Sparkhill to cater for you event, you can relax knowing that you have professional standard chefs providing some of the most tasty, wholesome food imaginable for you and your guests.